Take the Next Step in Your Policing Career
Lateral Officer
The Vancouver Police Department, Washington is a leading, full service organization offering energizing opportunities in police work for those interested in providing quality law enforcement services to the public. Our officers are dedicated to protecting life and property.
Assignments and collateral duties include Patrol, SWAT, Traffic, Investigations, K-9, UAS, Neighborhood Police Officers, and Crisis Negotiation.
Choose Vancouver Police Department
Entry-Level Officer
VPD is a professional, progressive, and innovative law enforcement agency. We take pride in our role as an integral part of our community and are actively seeking Entry-Level Officers to join our team.
We are a diverse, full-service organization that incorporates inclusive values and beliefs. We are committed to providing quality law enforcement services throughout our community. We enhance the quality of life in our city through proactive problem solving, fair and equitable law enforcement and effective use of resources. We serve the City of Vancouver with courage, strength, integrity, compassion, and pride.

Hiring Incentives
We offer outstanding incentives for Entry-Level and Lateral Transfer Officers!

Specialty Units
VPD offers opportunities across many specialty units including:
SWAT
Traffic
Investigations
Crisis Negotiation
UAS
K9
Neighborhood Police Officer

Pension Plan
The LEOFF II plan is a lifetime retirement pension plan available to law enforcement officers and firefighters in Washington. You, your employer and the state contribute a percentage of income to fund the plan. Calculate your retirement benefit using this Personalized Benefit Estimator

Community Relations
VPD enjoys an exceptional relationship with our community. We work hard to earn our community's trust through community policing, transparency, and officer training. Our department's goal is to be the safest urban city in Washington.

Benefits
Vancouver Police Department offers competitive benefits. We continually explore new benefits to add to our current package. Currently, we offer:
LEOFF II Retirement
Life Insurance
Disability Insurance

Policing Style
Vancouver Police Department is an early adopter of community and data-driven policing. We work together with our community to solve problems and adopt long-term solutions. We are committed to adopting and implementing new technology to better serve the community.

Vancouver, Washington
Situated on the north bank of the Columbia River, Vancouver combines the excitement of a major metropolitan area with small-town charm. Vancouver is just a short drive away from the Pacific Coast, the Cascade Mountain Range, and the stunning Columbia River Gorge National Scenic Area.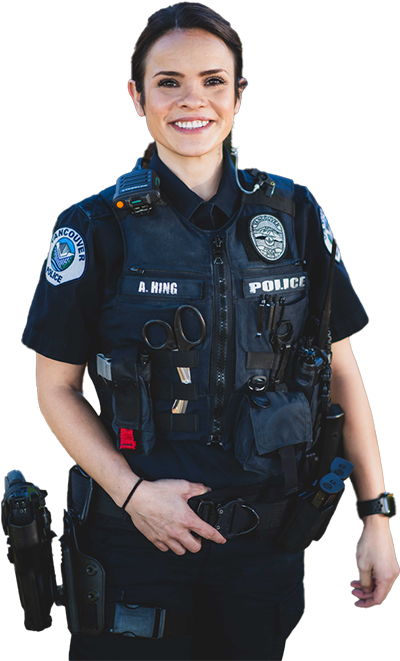 "There's something new every single day."
"People are more than happy to share their experience with you and try to help guide you to achieve your career goals."
Vancouver Police Department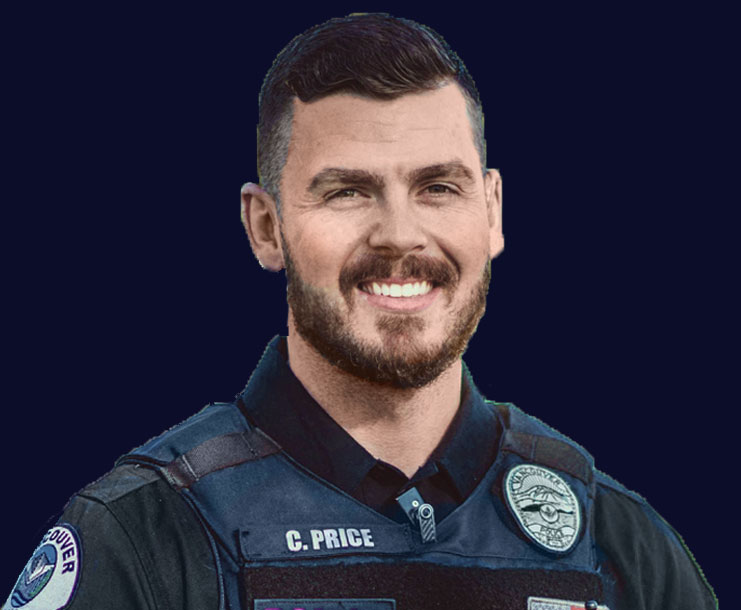 "Getting out of the Army and becoming a civilian law enforcement officer was, by far, the best decision I've ever made."

Detective Colton Price

Vancouver Police Department
HOW TO APPLY
As an Entry-Level Officer
This short video puts you on the path to a successful law enforcement career with VPD.
Be You. Be VPD.
Use your skills to make a difference in our community.
Opportunity is Waiting
Are you ready for something new and exciting? Welcome to VPD.
Transition: The Military to VPD
Civilian law enforcement is an ideal career choice for military veterans.